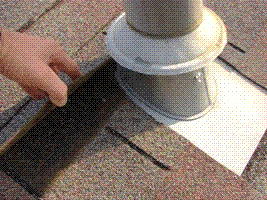 Hail is an unexpected and destructive force. One minute the skies are nice and sunny on a warm, June day, and the next minute the clouds roll in, the sky turns dark, and instead of rain, the clouds unleash a flurry of ice on unsuspecting people. If your business or commercial property sustained damage from the recent hail storm that pummeled North Branch, MN, on June 29, 2015, call the professional contractors at United Roofing & Remodeling, Inc. to repair your commercial flat roof and get your business and/or commercial property back in working order again.
Certified Commercial Flat Roofing Inspectors North Branch
You might be unsure if there's hail damage because you don't have someone qualified to inspect your commercial flat roof. Fear not. United Roofing & Remodeling, Inc. has certified inspectors that can take a look at your commercial roofing issues and determine the extent of the damages and what steps need to be taken to rectify the situation.
Insurance-Covered Commercial Flat Roofing North Branch, MN
United Roofing has more than 20 years of installing and repairing commercial roofing in Minnesota and North Branch. A big part of the repair side of our business comes from hail damage in Minnesota. Per the Star Tribune, a new State Farm report says that Minnesota ranks 13th in the nation for hail damage claims. At United Roofing, we have always worked closely with insurance companies to make sure that there is minimal, if any cost to the customer and that a thorough, complete job is done to ensure that every commercial flat roof in North Branch that we repair is able to stand up to the next round of hail that comes through the area, whenever that may happen.
Commercial Flat Roof Contractors North Branch
United Roofing hires and retains the best contractors because of our comprehensive in-house training. This is important if you have sustained hail damage in North Branch because hail produces very irregular destruction that must be repaired by the best contractors who can evaluate and carry out the best course of action for your commercial flat roof.
Protect Your Flat Roof North Branch
If your commercial property has sustained hail damage, it is best to have repaired now, before the next wave of storms roll through Minnesota and North Branch. Repairing a roof immediately after damages occur is the only way to ensure that your building will be around with withstand the next onslaught. So call United Roofing & Remodeling, Inc. today at 612-617-1717 with any hail damage concerns.