Commercial EPDM Single Ply Roofing Contractor MN
United Roofing & Remodeling Inc. is proud to carry and install the Johns Manville EPDM Single – Ply roofing system. This system has superior characteristics to survive the most severe weather through a wide range of temperatures and conditions and demonstrates superior ozone resistance. The EPDM system membranes are available in several thicknesses, with or without polyester scrim reinforcement and can be installed in ballasted, mechanically fastened or adhered applications.
EPDM Single Ply System – JM EPDM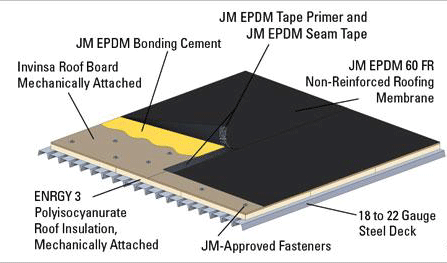 With fewer seams and wide widths, the JM EPDM system improves commercial roofing contractor efficiency during installation. EPDM offers a quick, clean, and inexpensive solution able to be installed in a wide range of temperatures making this a great solution for colder climate areas like the Twin Cities. Additionally, the EPDM roofing system provides excellent UV and weather resistance as well as sheet flexibility and high elongation. Systems can be installed fully adhered, mechanically fastened or ballasted.
Call us for a Free Quote at: (612) 617-1717 Or Request a Quote online