Minnesota Hail & Storm Damage Repair
Weather related emergencies are an unfortunate fact of life and can't be avoided.  A proactive response to a weather event will limit damage caused by storms and high winds and minimize any consequential damage caused by exposure to the elements.
If your roof has been damaged by a storm whether by wind, hail or rain, the United Roofing and Remodeling Response Team will provide immediate assistance anywhere in the Twin Cities area.
United Roofing and Remodeling has experienced, knowledgeable personnel ready and equipped to put your home or business back in shape after a recent storm.
Storm Damage is Traumatic – We're there when you need us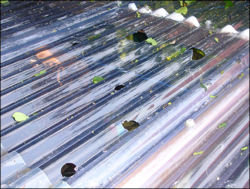 When storms or fire have damaged your property, the Rapid Response Team can be dispatched at a moments notice. One phone call gets us started.  When you call United Roofing & Remodeling we'll take care of the details so you can go back to taking care of your family or your business.  We are fully staffed to handle all the specifics of your recovery such as:
24 hr emergency service for: Board Up, Debris Removal, and Emergency Contracting.
Complete inspection of interior and exterior of property for all related damage, including possible hidden damage.
Plus  . . . We assist you with the Insurance claim process including:
Meet with adjuster
Negotiate the scope and cost of repairs with insurance company
Arrange proper payment from insurance company to property owner
Storm Damage Repair You Can Trust
The name United Roofing & Remodeling Inc. means quality products and services.   We have over 20 years of extensive experience working with all types of residential and commercial exterior configurations and materials manufacturers.  We will ensure seamless damage mitigation, repair and restoration.
Call us for a Free Quote at: (612) 617-1717 Or Request a Quote online