Commercial PVC Roofing Contractor MN
United Roofing & Remodeling Inc. is proud to carry and install Johns Manville PVC roofing materials. They are highly-engineered, flexible, thermoplastic membranes manufactured using an ultraviolet-resistant polyvinyl chloride (PVC) and a DuPont™ Elvaloy® KEE (ketone ethylene ester) formulation. The single-ply system provides excellent weathering capabilities, high tensile strength and long-term flexibility. The system also shows a high resistance to harsh chemicals and industrial pollutants.
PVC Single Ply Roofing System – JM PVC and UltraGard® PVC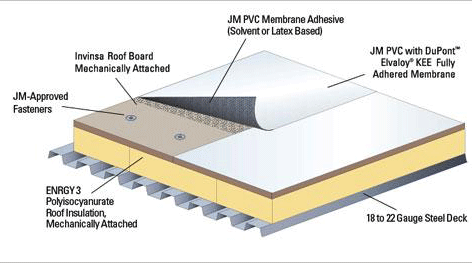 PVC roofing systems are cleaner, quicker, and more economical. The system is able to withstand heat, wind, rain, varying temperatures (great for colder climate area or extreme temperature areas) and many contaminants. The heat-weldable seams provide a unified, watertight seal as strong as the membrane itself. PVC Single – Ply roofing systems can be installed fully adhered or mechanically fastened.
Call us for a Free Quote at: (612) 617-1717 Or Request a Quote online