Commercial TPO Roofing Contractor MN
United Roofing & Remodeling Inc. is proud to carry and install the Johns Manville TPO Roofing System. The TPO system is one of the latest Single – Ply, flat roofing technologies on the market today. The current membrane formulations are reinforced with a polyester fabric and manufactured using an ultraviolet-resistant thermoplastic polyolefin formulation. We carry two types of TPO roofing products, TPO and TPO-1. Both come in several thicknesses, please call us for a free consultation and needs assessment.
TPO Single Ply Roofing System – JM TPO/JM TPO-1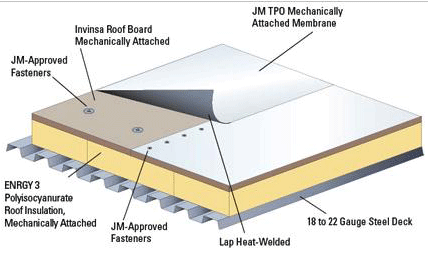 The Johns Manville TPO roofing systems combine both polypropylene (plastic) and ethylene-propylene (rubber) using state-of-the-art polymer manufacturing technology. This results in an ideal commercial roofing system that is reliable, cost effective, environmentally friendly and easy to install. The TPO systems can be installed fully adhered or mechanically fastened.
Call us for a Free Quote at: (612) 617-1717 Or Request a Quote online