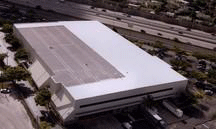 When the time comes that you need to consider replacing your existing Commercial Flat Roofing System there are numerous things to consider. Structures located in Minneapolis, MN must be able to handle a significant structural load from heavy snow. Also consider that the reflectiveness of Commercial GAF White TPO Roof can provide increased Energy Efficiency. The list goes on. The roofing professionals at United Roofing & Remodeling are a Licensed Commercial Minneapolis roofing company that understands every important aspect of providing our clients with a High Performance commercial roofing solution.
Commercial Roofing Considerations
Commercial Roofing Systems are a large investment that cannot be taken lightly. The roofing company that you choose effects the outcome that you will receive. There are many different aspects to consider when deciding on a quality commercial roofing system and the Licensed Minneapolis, MN Roofing Contractor who will be installing it.
Should your existing flat roofing system be Repaired or Replaced
Is a Tear Off or Roof-Over more appropriate for your situation
How much Structural Load will your replacement roofing system handle
What R-Value does your structure require in Minneapolis, MN
Will the Roof Slope be adequate to avoid ponding
Will the Roof Drainage System handle water dispersal properly
Can your contractor correct any Structural Deficiencies of the roof
Is your new commercial roofing system rated for Wind Speed Resistance
What UL Flame Resistance will you have
Which commercial flat roofing system is Best for your Structure
Commercial GAF White TPO Roof
The latest Commercial GAF White TPO Roofing System is making waves in the industry due to the level of performance it provides. This single-ply membrane system Outperformed other TPO roofing systems in a recent independent study. United Roofing provides unparalleled expertise in the installation of high performing commercial roofing systems. One of our representatives can help you to determine if the Commercial GAF White TPO Roof is right for you.
Licensed Commercial Minneapolis Roofing Company
United Roofing & Remodeling has been recognized for Excellence in Commercial Roofing Systems that perform in all types of Minneapolis, MN weather. We are an experienced and Licensed Commercial Roofing Company that plays by all the rules to provide peace of mind for our clients. You can trust United Roofing to provide your commercial building with a top quality roofing system like the GAF White TPO Flat Roof that outperforms all others.
Contact United Roofing & Remodeling, Inc. at (612) 617-1717 or Request an Online Quote Today for a Quality Commercial Flat Roofing Installation!