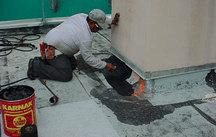 If you own a commercial building you understand how important proper maintenance is to the overall value of your investment. One of the maintenance expenses that plague many business owners is dealing with commercial flat roof repair and flat roof replacement. Whether your business is located in Minnesota or anywhere across the country, United Roofing & Remodeling, Inc. stands ready to assist you with your commercial roofing needs.
EPDM Single-Ply Roofing Contractor MN
For the past 20 years, United Roofing & Remodeling has been offering roofing services to a variety of companies of all sizes. Whether you're in need of commercial flat roof repair or replacement, we have the experience to handle your job in an efficient and timely manner. We're proud to offer the renowned Johns Manville EPDB Single-Ply roofing system, which is able to withstand the most extreme weather conditions. While the Johns Manville EPDB system comes in a variety of thicknesses, our single ply system is the most popular due to it being a quick and inexpensive option for flat roof replacement.
Warranty Options From United Roofing & Remodeling
We offer a wide selection of commercial roofing contractor warranties depending on the product that you choose for your next roofing job. Some of our warranties cover material defects only, while others cover both material defects and workmanship errors. Our coverage periods range from 12 years on some of our less expensive roofing options all of the way up to 25 years for our most rugged solutions. Contact a commercial roofing professional at United Roofing & Remodeling to learn more about which warranty option will work best for you and your business.
Experienced Commercial Roofing Contractor Minneapolis MN and Beyond
At United Roofing & Remodeling we are proud of the fact that we've been proudly serving the Minneapolis, MN area and beyond for over 20 years. We bring this high level of experience to every roofing job and promise that we'll work with you to find the ideal commercial roofing solution for your current problem. We're not the type of company that pushes our customers towards a flat roof replacement when a repair will suffice. We want to be around 20 years from now, which is why we strive to run an honest and completely transparent commercial roofing business.
If you're in need of commercial roofing replacement or repair don't hesitate to contact our office today at (612) 617-1717 to setup a free consultation with one of our project managers. We look forward to hearing from you soon.