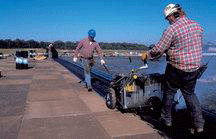 Does your business location have a flat roof? If so, you likely know that commercial flat roof repair or flat roof replacement is much different than residential roofing services. Flat roofing services can be much more complicated compared to a standard shingled roof. If your commercial roof has sprung a leak or needs to be replaced, United Roofing & Remodeling, Inc. of Minneapolis, MN is ready and willing to help you out.
Commercial GAF White TPO Roofing Contractor Minneapolis MN
At United Roofing & Remodeling we're proud to carry the GAF White TPO Roofing materials for our growing list of commercial customers.   We understand that you have lots of choices when it comes to TPO membranes. In our decades of experience we've come to trust the EverGuard® TPO Roofing membranes from GAF.
GAF offers a wide range of roofing membranes suitable, for every commercial application. In fact, the EverGuard Extreme® TPO offers the industry's best guarantee at up to 35 years. GAF's flat roof membranes are perfect for either new construction or re-roofing. EverGuard® products offer the following:
Superior seam strength
Puncture resistant material
Long lasting material resistant to weathering
Easy installation
Prefabricated Accessories for a Reliable, Watertight Roof
When a roofing crew has to pre fabricate TPO accessories on-site it can take significant time and lead to unreliable results that ultimately compromise a watertight seal for your roof. A GAF estimate indicates that using EverGuard® TPO prefabricated accessories can boost productivity by up to 200% while also reducing the installed cost of a flat roof by 12%. As a customer, you want to work with a Minneapolis Commercial roofing contractor that focuses on the small details like prefabricated TPO accessories to ensure that your new roof will last many years into the future.
Commercial Flat Roof Repair
If you think your roof may need to be repaired, United Roofing & Remodeling, Inc. would be happy to come out to give you a free estimate. We'll examine your roof to determine if you need a roof repair or replacement. We are not the type of roofing company that will force a flat roof replacement on you. We'll show you concrete evidence as to whether your roof needs to be repaired or replaced. Even if you need a flat roof replacement, we can show you a variety of options that will fit within your budget. To setup a free estimate, call us today at (612) 617-1717. We look forward to working with you soon.