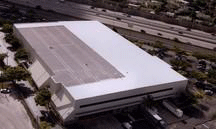 One key factor with a flat roof is proper maintenance and installation. Commercial buildings with flat roofing should be inspected frequently to verify the integrity and to quickly resolve any issues that may arise. United Roofing & Remodeling is ready to assist those in Edina and surrounding areas with any commercial flat roofing needs you may have including repair, maintenance, and installation.
Specialized Commercial Flat Roofing
United Roofing & Remodeling has over 20 years of experience in commercial flat roofing and has earned the prestigious status of Master from GAF for commercial Thermoplastic Roofing Systems installation. We specialize in several different types of roofing, including:
Built Up Roofing
EPDM Style-Ply Roofing
TPO Single-Ply Roofing
PVC Single-Ply Roofing
When it comes to new roofing, warranties are very important to a vast majority of customers. Because of our master roofing status, we are able to offer extended warranties that so many other companies simply cannot. You can visit our website to view all of our commercial roofing warranty options.
Maintenance and Repair of Commercial Roofs
Commercial flat roofs are complex and require skill and knowledge to maintain and repair. Maintenance is key with flat roofing; it ensures your roof will remain in optimal shape and will extend the overall life of your roof while keeping your warranty from becoming void. When repairing your flat roof, it is important to make any necessary repairs quickly to keep the problem from growing. In addition, you will want to make sure that proper, high quality materials are used along with a knowledgeable contractor making the repairs to ensure they are done correctly. United Roofing & Remodeling will take the time to discuss our recommendations for your commercial roofing needs.
Roof Replacement
When your roof reaches the end of its shelf life, replacement will become inevitable and necessary. While full roof replacement is of course going to be the most costly option, it is also the biggest long term solution for your roofing needs. Just as with maintenance and repair, you will want to be sure to choose a certified company who uses top quality materials to complete your replacement.
United Roofing & Remodeling is the best company to work with for any commercial flat roofing needs. Our customer service is a cut above with superior communication, and we guarantee the best quality materials along with top notch installation and service. Call (612) 617-1717 today for a free estimate.