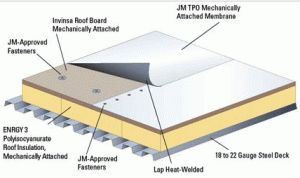 If you are in the market for a new Commercial Roofing System then you should look closer at the commercial GAF White TPO Roof. A Thermoplastic Polyolefon (TPO) single-ply roofing system provides excellent performance at a cost effective price. Your local Minneapolis, MN roofing experts at United Roofing & Remodeling offer only quality roofing systems backed by warranty. We are Licensed Minnesota Roofing Professionals with an A+ Rating with the BBB and have been serving Minneapolis clients for more than 20 years.
Commercial GAF White TPO Roof
Let's face it, commercial roofing systems can be confusing and difficult to decipher. The roofing experts at United Roofing & Remodeling are up to date on all of the latest technological advancements in roofing materials. Our crew understands the complexities of choosing and installing the best roofing systems for Minnesota commercial applications. We utilize only Top Quality Materials like the Commercial GAF White TPO Roof. They are built for long lasting results in the harshest Minnesota conditions.
Energy Star® Qualified TPO Roof
TPO Commercial Roofing Systems are based on the latest technology in the roofing industry. The GAF White TPO roof provides advanced heat and UV protection. The TPO technology combines both plastic and rubber into one integrated product. The TPO white membrane is flexible and highly reflective. This roofing system may reduce your energy costs. It is Energy Star® rated for energy efficiency.
Advantages of TPO Commercial Roofing Systems
Cost effective roofing solution
Easy installation techniques
Energy Star® qualified
Flexible
Highly reflective
Advanced heat protection
UV protection
Reduces heat island effect
Environmentally friendly
Puncture resistant
May lower heating and cooling costs
Commercial Roofing Specialists Minneapolis MN
Minneapolis, MN weather conditions can be quite brutal on commercial roofing systems. Commercial buildings need a high performance roof that can withstand extreme cold, heavy snow, rain and even hail. United Roofing & Remodeling has been installing superior roofing systems for over 20 years. Our team is very qualified to install even the most challenging roofs in the city of Minneapolis. We have earned our reputation as MN Commercial Roofing Specialists.
Licensed Commercial Minnesota Roofing Professionals
United Roofing & Remodeling is your source for High Performance Commercial Roofing Systems in Minneapolis, MN. We built a reputation by providing our clients with outstanding customer service and quality. Our team of Licensed Minnesota Roofing Professionals apply their knowledge and expertise to installation of commercial GAF White TPO Roofing Systems. Ask us about the TPO Roof Advantage.
Contact United Roofing & Remodeling, Inc. at (612) 617-1717 or Request an Online Quote Today for a Quality Roofing Installation!