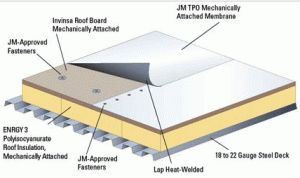 TPO Roofing Systems have become incredibly popular in recent years due to the outstanding performance features. When a commercial GAF White TPO Roof has been installed by Minnesota Licensed Roofing Professionals like United Roofing & Remodeling, you can always count on lasting performance. The extreme weather conditions in Minneapolis, MN can have devastating effects on commercial roofing components. Make sure you do you homework and select one of Minnesota's premiere roofing installation contractors that are committed to doing the job right.
What is Commercial TPO Roofing Membrane?
The term TPO stands for Thermoplastic Polyolefin. Unlike other membranes, TPO is a rubber compound that has the ability to be fused together over its lifetime. Roofing systems that use EPDM rubber membranes must be seamed together using an adhesive or tape. This eliminates seams that are usually the weakest link in a roofing system.
Industry Leading Commercial GAF White TPO Roof
There are many different types of Commercial Roofing Systems available today. As a recognized leader in Minneapolis, MN commercial roofing installations, United Roofing has chosen EverGuard® TPO Roofing Systems from GAF. The Commercial GAF White TPO Roof has outperformed all other TPO brands in an independent study. GAF TPO roofs proved to be in a class by themselves when it came to Heat Aging, Cracking, Weather Resistance and UV Protection.
Largest TPO Independent Study
In an attempt to cut through all of the exaggerated claims from other TPO Manufacturers, GAF engaged a well-known and respected lab to put TPO Roofing Systems to the test. This was the Largest TPO Independent Study of its kind. SRI researchers tested the performance of GAF TPO Membranes against those of other manufacturers.
Key Finding showed that all brands tested Exceeded minimum standards.
Key Finding demonstrated significant differences in accelerated aging tests with GAF TPOs coming out on top.
Key Finding showed a greater difference in weight lost during accelerated aging tests where once again GAF EverGuard Extreme® was the best.
Key Finding showed GAF TPOs among the top for greatest consistency during production.
Benefits of GAF TPO Commercial Roofing Systems
Suitable for everyday use or demanding applications
Fuses together for a watertight seal
Energy Star® qualified
Great installation flexibility
Highly reflective exposure reduces energy costs
Great for new installations and re-roofing
UV protection
Enhanced durability
Cost effective price for superior performance
Puncture resistant
Licensed Minnesota Roofing Professionals
United Roofing & Remodeling provides the industry's best options in Commercial Roofing Systems that handle Minneapolis, MN weather beautifully. We are Licensed Minnesota roofing specialists. Contact one of our representatives for a quote on an Industry Leading commercial GAF White TPO Roof that will deliver on long lasting protection for your building.
Contact United Roofing & Remodeling, Inc. at (612) 617-1717 or Request an Online Quote for a GAF TPO Commercial Roofing System Installation!