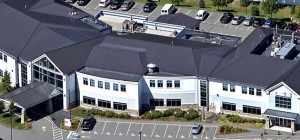 With the recent severe weather we've seen in Faribault, MN, it's no surprise that we've received countless calls about commercial hail damaged roof repairs.  When listening to the local news stations covering the severe weather, you likely hear about residential hail damage, but not damage to commercial structures.  The reality is that commercial hail damage occurs just as often, yet can be more difficult to repair, due to the sheer size of many commercial structures in Faribault.  If you're concerned that your commercial roof has been damaged from recent hail damage, don't hesitate to contact the team at United Roofing today to setup a consultation with one of our commercial roofing experts.
Experienced Commercial Roofers Specializing in Hail Damage
At United Roofing, we've been in business in the Twin Cities area for more than 20 years.  In this time, we've seen many severe storms make their way through our area.  Many of these storms have caused significant hail damage to residential and commercial structures alike.  While residential hail damage can be easier to spot, commercial hail damage is much more difficult to identify.  Most commercial structures utilize different roofing materials, which don't necessarily make it easy for an untrained eye to spot hail damage.  For this reason, if your commercial building was in the direct line of some of the recent severe storms we experienced in Faribault, it's likely best to contact a roofing contractor as soon as possible.
When you choose a roofing contractor to repair or replace your commercial roof, you'll want to choose a company that has experience working on commercial roofs of all sizes.  At United Roofing, we regularly repair and replace roofs on some of the largest buildings in Faribault, and can easily handle any sized roofing repair or replacement.
We understand that if your business's roof was damaged from the recent hail storm, that you likely want it fixed right, and fixed quickly.  Thankfully you're in good hands when you hire the commercial roofing professionals at United Roofing to handle your needs.
Schedule Your Hail Damage Assessment Today
Spotting hail damage on your commercial building after the recent severe storms in Faribault is not an easy endeavor.  Don't risk life and limb by trying to hop on your commercial roof to look for any damage due to hail.  Simply pick up the phone and call United Roofing today at 612-617-1717, and we'll come out to give you a free hail damage assessment to identify any issues that should be fixed.  We look forward to serving your needs soon.