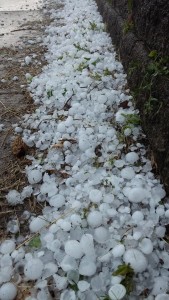 With all of the recent coverage of the severe storms we've had in Stacy, not much has been said about commercial hail damaged roof repairs. Most of the coverage has been centered on residential hail damage, which is no doubt important, but there is just as much of a need for repairing hail damages to commercial properties in the Twin Cities area as well. At United Roofing & Remodeling Inc., we've been working long hours as of late to meet the demand of our commercial customers. If your commercial building has experienced hail damage or you would just like a trained eye to look for any damage, don't hesitate to contact United Roofing & Remodeling to handle all of your Stacy hail damage repairs.
Experienced Commercial Hail Damaged Roof Repairs
When you need commercial roofing repairs, it's important to choose a company with ample experience. There are significant differences between residential and commercial roofing and you want the company you choose to be well versed in all things related to your type of roofing material. This is especially true if your commercial building has any type of flat roof. Flat roofing materials can be more difficult to work with and you want to ensure your roofing problem is fixed the first time, so you're not bothered with it again in the future. United Roofing & Remodeling has over 20 years of experience in the commercial roofing industry. We're a GAF Master commercial roofing contractor which means that we've been selected because of our experience and superior workmanship among all of the roofing contractors in the country that use GAF products.
Schedule a Storm Damage Assessment Today
While you may be able to hop up on your home roof to see if you can spot any storm damage from the recent storms in Stacy, your commercial roof is likely a different story. There's no need for you to risk life or limb by trying to get out on the roof of your commercial building to check for hail damage.   Simply call our office and schedule a free consultation where one of our experienced contractors will come out to assess any hail damage that may have occurred during the recent severe storms. Once we've prepared our findings you can then decide how you want to move forward. Don't put off checking your commercial roof for hail damage. Give our office a call today at (612) 617-1717 to schedule your consultation.