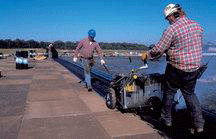 If you own or manage a commercial building you likely dread the day that your Minneapolis roofer tells you that you have to replace your commercial flat roof. Commercial roofing can be quite complicated and it's important to work with a company that has ample experience to ensure that your job is done right and that it will hold up over time. This is especially true with commercial flat roof replacement which can get quite complicated depending on the intricacies of your commercial building. United Roofing & Remodeling, Inc. has over 20 years of commercial roofing experience and offers a variety of options including the commercial GAF White TPO roof when it comes to replacement your company's roof.
Commercial GAF White TPO Roof
When it comes to a commercial flat roof, there are a variety of options for TPO membranes. At United Roofing & Remodeling we utilize GAF TPO roofing membranes due to their long warranties and high quality materials. Take the EverGuard Extreme® which offers far superior performance compared to other TPO membranes, including up to a 35 year warranty! This is by the far the industry's best warranty for a commercial white TPO roof. If you have a TPO roof that needs to be replaced you should at least price out the commercial GAF white TPO roof to see how it compares to the price of over TPO membranes. If you take into account the long warranty and other patent-pending technology that aids with UV degradation and heat aging you may save money in the long run by installing a GAF white TPO roof.
Commercial Flat Roof Maintenance
Maintaining your commercial roof can be something that quickly creeps up on you. If you haven't had your roof inspected by a reputable Minneapolis commercial roofing contractor in quite some time, you should contact one soon to check the age and condition of your roof. Regular maintenance is important to extend the life of your commercial roof and also helps to keep your roof in tip top shape. Maximize the value of your commercial building by ensuring that you properly maintain your roof.
Commercial Roofing Replacement Experts
At United Roofing & Remodeling we've been providing commercial roofing replacement services for decades. With over 20 years of experience in the industry we're able to spot roofing problems early to prevent larger issues down the road. Give our office a call today at (612) 617-1717 to schedule a free quote for any type of commercial roofing services.