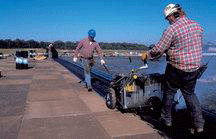 If there was one part of your commercial property that you could not survive without, what would it be? If you answered the roof, you are correct! St. Paul, MN has its fair share of bad weather throughout the year, and having a faulty roof could be detrimental to your commercial property. When it comes to finding a roofing contractor in the area, expertise and affordability are probably on your mind. Thanks to our team at United Roofing, we can meet your roofing expectations both financially and professionally.
Commercial Roofing Contractor St Paul MN
With more than 20 years of experience in the industry, our roofing installers can tackle any roofing project that comes our way. Customer service and a seamless experience are what we pride ourselves on when it comes to serving the St Paul, MN community. As our saying goes, quality doesn't cost..It pays! By investing in our proven commercial roofing systems, your commercial property will stay protected for decades to come!
Commercial Roofing System Options
Another great benefit of choosing our staff as your roofing contractor is that we offer 6 different roofing systems, giving you all the roofing options you could imagine. These commercial roofing systems include:
Flat Roofing – As a GAF Certified Flat Roofing installer, your roof will be backed by our highly protective product warranty.
TPO Roofing – Our TPO roofing system is one of the newest single-ply flat roofing features in the industry. Consider our top of the line Johns Manville TPO roofing systems for your commercial property.
EPDM Roofing – Offering the Johns Manville EPDM Single-Ply roofing system, this commercial roof holds up extremely well against the brutal St Paul, MN weather.
PVC Roofing – This low maintenance option is very flexible and long lasting and we carry Johns Manville PVC roofing systems.
Metal Roofing – Metal roofing is quickly catching on and may be an option to look into for your commercial property. Our metal roofing experts will walk you through the benefits of a metal roof.
Built Up Roofing (BUR) – One of the oldest roofing systems, we have been installing built up roofing for more than 20 years.
Insurance Approved Roofing Company
If you are working with your insurance company to get your commercial property's roof repaired or replaced, take note that we are an insurance approved roofing company in the St Paul, MN area.
The roof of your commercial location is arguably the most important protector of your property. If you are in search of an expert roofing company in the St. Paul, MN area, look no further than our roofing specialists at United Roofing. Give us a call today at (612) 617-1717, or email pjeanotte@unitedroofingmn.com to learn more about our commercial roofing services.