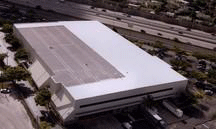 United Roofing & Remodeling is your Minneapolis, MN source for High-Performance Commercial Roofing Services. We provide our customers with the highest quality roofing systems with outstanding warranties. Our reputation for excellence has spanned over 20 years. Among other commercial roofing systems we offer a Johns Manville EPDM Single-Ply roofing system. Johns Manville uses advanced technology to manufacture roofing components that you can depend on. Our technicians provide top-notch roofing repair and installation for all types of commercial structures.
Johns Manville EPDM Single-Ply Roofing System
Johns Manville has been around for 150 years providing a complete line of roofing systems. At United Roofing & Remodeling we utilize the Johns Manville EPDM Single Ply Roofing System for many commercial properties. The EPDM roofing materials have an advanced membrane system that has superior performance in a wide range of conditions. Commercial Warranties are available for up to 25 years of coverage.
Benefits of Johns Manville EPDM Roofing Systems
Single source manufacturing that provides precise quality control
Consistent thickness
Quality surface finish
Superior performance in diverse weather conditions
Excellent ozone resistance
Excellent UV resistance
Sheet flexibility
Available in several thicknesses
Appropriate for re-roofing projects or new roofing installation
Efficient roofing installation process
Ability for different installation applications for custom fit designs
Experienced Commercial Roofing Installation Team
Your roof should last for decades if it is installed by Experienced Professionals who are using the Highest Quality Materials. Choosing the best Commercial Roofing Professionals is critical for optimal results. United Roofing & Remodeling has roofing installation teams that are highly qualified for even the most complex roofing configurations. Our crews receive ongoing safety and skills training to ensure that we remain the most talented roofing company in Minneapolis, MN.
Commercial Roofing Services
Commercial roofing maintenance services
Commercial roofing repair services
Commercial roofing restoration services
Commercial roofing replacement services
Licensed Minnesota Roofing Professionals
United Roofing & Remodeling has a reputation as one of the Best Commercial Roofing Services Company in Minneapolis and the surrounding metropolitan area. We are fully Licensed MN Roofing Professionals with more than 20years experience in the commercial roofing industry. Our Johns Manville EPDM Single – Ply roofing system is a cost effective solution for years of coverage and protection of your building. Contact us for more information on this innovative commercial roofing system.
Contact United Roofing & Remodeling, Inc. at (612) 617-1717 or Request an Online Quote Today for a Quality Roofing Installation!