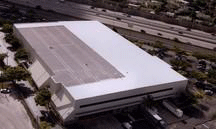 Minneapolis, MN businesses can get some of the best warranties in the roofing business thanks to United Roofing & Remodeling. Our status as GAF Master Elite allows us to offer commercial and industrial property owners Extended Warranty programs that others cannot provide. We are Licensed Roofing Professionals that utilize only quality roofing installation and materials. We have over 20 years experience with installing Industry Leading Commercial Roofing Systems that are energy efficient and long lasting roofing solutions.
Skilled Roofing Contractors
Commercial and Industrial properties have some of the most complex and complicated roofing systems. Only Licensed Roofing Professionals with years of experience are able to determine the best roofing systems for these unique structures. United Roofing & Remodeling has ongoing training programs to ensure that we retain the most skilled roofing contractors in the Minneapolis area. We take Customer Service and Professionalism seriously and strive to provide the very best.
Quality Roofing Installation and Materials
The reputation of a roofing contractor is only as good as the finished product. When you hire United Roofing & Remodeling for Industrial or Commercial roofing services you can trust that you are receiving Quality Roofing Installation and Materials. We partner with some of the most trusted names in roofing product manufacturers to ensure top quality for our clients. Our designation as GAF Master Elite shows our commitment to proper installation and lasting results.
Commercial Flat Roofing Specialists
Flat roofs are utilized for the majority of large structures. When installed properly they are energy efficient and easy maintenance. United Roofing & Remodeling provides Industry Leading Commercial Roofing Systems for industrial and commercial properties in Minneapolis, MN. Our high-performance roofing systems for commercial flat roofs includes the following styles. Each uses High Quality Materials and performance.
Single-ply EPDM roofing system
Single-ply TPO roofing system
Single-ply PVC roofing system
Built-up roofing system
Licensed Roofing Professionals
United Roofing & Remodeling is a Minneapolis, MN leader in Quality Roofing Installation and Materials. We specialize in flat roofing systems for Commercial and Industrial properties around the Twin Cities Metro area. As Licensed Roofing Professionals we provide industry leading commercial roofing systems that won't break the bank. Our roofing installation technicians complete ongoing training in techniques and safety. This ensures that our clients will always receive best service and performance from their roofing installation or repair service.
Contact United Roofing & Remodeling, Inc. at (612) 617-1717 or Request an Online Quote Today for a Quality Roofing Installation!