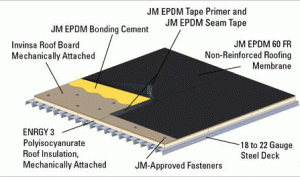 Whether you are a fast food restaurant owner, or a corporate office looking to bring clients into your front door, your roof makes a difference in your business. Not only does it serve a functional purpose, protecting your structure from the Minnesota weather elements, it also gives an impression to everyone that views it. Does it look attractive? Does that company take care of their property? Is this business or corporation willing to invest in the betterment of their property? If you are looking for a commercial roofing contractor in MN, look no further than United Roofing & Remodeling. We work hard to get the look and functionality that you need in a high quality commercial roof.
Commercial Roofing Contractor MN
United Roofing & Remodeling is leading Minnesota in commercial roofing. We take pride in providing all types of commercial roofing products for our clients so that they get exactly what they are looking for. We are here to help, offering our industry's most comprehensive consumer report! We pride ourselves in customer support and excellence in installation and repair services. So much so, that we have earned the designation of Master from GAF for the installation of commercial Thermoplastic Roofing Systems. We are a fully licensed and insured company that has over 20 years of experience putting roofs on a variety of commercial properties, from apartments to churches. The following is a list of commercial flat roofing systems:
● Built Up Roofing
● EPDM Single-Ply Roofing
● TPO Single-Ply Roofing
● PVC Single-Ply Roofing
Determining Your Roof
At United Roofing & Remodeling, we expect you to be roofing experts and tell us exactly what you want and need. Does that sound right to you? It doesn't sound right to us either! We are the experts of commercial roofing so that you don't have to be. We will custom tailor a job to fit your needs and work closely with you so that you get the results you want, maintain your budget, and find something aesthetically pleasing to match your commercial property. As a premier commercial roofing contractor in MN, we provide quality installation using technologies like infrared moisture scans and professional estimating programs. We are top of the line so that your finished product will be too.
If you are looking for an experienced staff that offers quality work, superior communication throughout the process, and competitive pricing that will beat the rest, you are looking for United Roofing & Remodeling. For more information or a free estimate today, simply call us at (612) 617-1717.