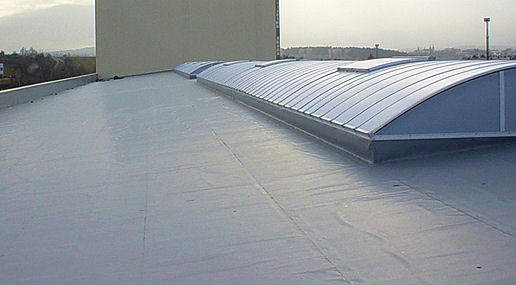 A roof is perhaps one of the most important parts of your commercial property. It protects your business and prevents serious water damage. As a business owner, investing in keeping your roof in its best condition is an important annual maintenance activity that is essential. United Roofing & Remodeling is the leading commercial roofing contractor in the Twin Cities MN, area — offering high performance roofing systems for commercial and industrial properties in the area. With more than twenty years of commercial roofing installation and repair experience, United Roofing & Remodeling brings superior customer service, and the best installation and repair reputation in the Minnesota area.
Commercial Roofing Types Minnesota
United Roofing specializes in the installation of the following commercial roofing types:
● Built Up Roofing
● EPDM Single-Ply Roofing
● TPO Single-Ply Roofing
● PVC Single-Ply Roofing
United Roofing & Remodeling has earned the elite and highly distinguished designation of Master from GAF for installation of commercial Thermoplastic Roofing Systems, which means that they can offer extended warranties that other local roofing companies cannot. These warranties can cover your roof for nearly 20 years, giving you confidence in your roof and peace of mind knowing that your investment is protected.
Experienced And Trained Commercial Roofing Contractor
The contractor crews at United Roofing & Remodeling attend both regular in-house safety and skills training to ensure that the work that they do meets the highest safety and quality standards. Our team also uses only the highest quality materials for each commercial job so that the repair will stand the test of time (and the brutal Minnesota winters!).
No matter how big (or small), your commercial roofing job is, the team at United Roofing & Remodeling can help. A member of our experienced staff will meet with you to listen to your needs, concerns and budget parameters so that we can make customized recommendations for your project. We have experience completing repairs and finding roofing solutions for all types of commercial properties including:
● Apartment complexes
● Townhome and condominium associations
● Restaurants
● Law or medical offices
● Churches
● Industrial Sites
Protect Your Investment
United Roofing & Remodeling offers the highest quality installation, strong customer service and competitive prices to each of our customers. Fully licensed and insured, our team provides emergency roofing services, free estimates and clear communication about all potential costs involved in our roofing repairs. For more information about the commercial roofing services offered by United Roofing & Remodeling for those in the Minnesota area, call (612) 617-1717, or email pjeanotte@unitedroofingmn.com.