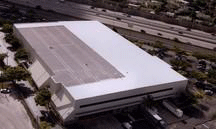 As a commercial property owner, your roof reflects the type of business you have. Whether you are a McDonald's or a high-end corporate office, the exterior of your building is often the first thing that potential investors or customers will see. Additionally, it is ultimately protecting the rest of your commercial property. No commercial property can go with an old or damaged roof for very long, especially in Minneapolis and St Paul. If you own a commercial property in need of roofing repair or replacement, United Roofing & Remodeling can help.
Roofing Contractor Minneapolis MN
As a commercial installer in Minneapolis, MN, we take pride in providing high performance roofing systems for all different types of businesses. We provide both built-up and single-ply systems and have a distinguished designation of Master from GAF for installing commercial thermoplastic roofing systems. Only 2% of roofing contractors have been awarded this title. We are a roofing contractor in Minneapolis, MN that you can trust. Serving the Minneapolis and St Paul, MN area for over 20 years, our reputation speaks for itself in regards to our quality, honesty and affordable prices.
Insurance Approved Roofing and Siding Company
No matter what type of roof you currently have or how well it was installed, at the end of the day, it's in Minnesota. Unfortunately, we are known for having rough weather. So when disaster strikes and your commercial roof is damaged, don't freak out! United Roofing & Remodeling is an insurance approved roofing and siding company that is dedicated to you, not your insurance. We understand just how stressful it is when your roof is damaged and we get that the viability of your commercial property and all that is inside is dependent upon a functioning roof. So we will work quickly and fast with your insurance provider to get you approved so that we can begin fixing your roof. As an insurance approved roofing and siding company, we will meet with your insurance adjuster and point out the specifics of your roof damage, so that you will get the most out of your money and receive the best quality repairs.
If you are looking for a commercial roof installer in Minneapolis or St Paul, MN, it's time to look for the best. United Roofing & Remodeling is your premier roofing contractor in the area and is ready to get to work for you. For more information about our commercial roofing systems and the types that we install, please contact us today at (612) 617-1717.