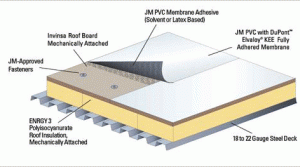 Are you a commercial property owner that has been putting off a roofing replacement project as long as possible? Living in Minnesota, it is very important that your commercial roof is fully functioning. With the amount of snow and ice during the winter, and storms in the summer, can your existing roof hold up against mother nature? The first place to start is to find a reliable and experienced commercial roofing contractor. While there are plenty of contractors to choose from, there is only one right choice. Team up with our crew at United Roofing and take advantage of our high quality roofing systems and elite level customer service.
Commercial Roofing Types
Our staff has been awarded the designation of Master from GAF in regards to installation of our commercial Thermoplastic Roofing Systems. This honor was made possible thanks to our dedicated staff. This designation allows us to offer our customers extended warranty options that other contractors in MN simply cannot offer. When it comes to commercial roof types, we offer the following options:
● Built Up Roofing
● EPDM Single-Ply Roofing
● TPO Single-Ply Roofing
● PVC Single-Ply Roofing
Commercial Roofing Contractor MN
At United Roofing, we have been in the commercial roofing business for over 20 years. During this time, we have led the way in roofing installation and repair services. All of our roofing experts have gone through in-house safety and skills training to ensure that they can handle any situation that may come their way. We are fully licensed and insured and offer extremely affordable pricing. As a customer, you deserve the best customer service and installation care on the market, and that is exactly what you get by choosing United Roofing. We will work with you to create a custom installation project that fits your every need. Bring your budget to the table along with the ideal warranty that you would like and we'll make sure that you get what you need! No project is too large for our staff as we have handled roofing for apartments, condos, townhomes, offices, restaurants, industrial sites and churches.
If you have been putting your Minnesota commercial roofing replacement project off, it is time to get serious and team up with an affordable and superior roofing contractor. Look no further than our professional staff at United Roofing that offers top notch customer service, expert installation and reliable repair services. Give us a call today at (612) 617-1717 or email pjeanotte@unitedroofingmn.com to set up a free estimate on your commercial roofing needs.