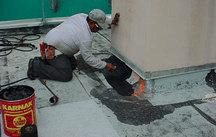 When owning a commercial property, there is even more stress added because you have to make sure that those tenants within your property are always protected. If you have a faulty commercial roof, it is important to fix it before those tenants come running. As a commercial roofing contractor in the Twin Cities, MN area, let us handle all of your commercial roofing needs, from repairs to replacement.
Commercial Roofing Contractor MN
With more than 20 years of commercial roofing experience, keeping our commercial roofing customers happy is our top priority. Hearing positive experiences directly from the mouths of our customers is what keeps us going as a business!
"United to the rescue! United came to help us on our property as our roof was damaged. We found out there were other issues and they were amazing in helping us maintain our property and get everything done timely!" – Recent customer, Bradford Zielke
Commercial Roof Types
At United Roofing, we do not limit our commercial customers to just one roofing option. Instead, we offer multiple roofing systems including the following:
Flat Roofing Systems
TPO Roofing Systems
EPDM Roofing Systems
PVC Roofing Systems
Metal Roofing Systems
Built Up Roofing (BUR) Systems
Roofing Maintenance and Repair
Insurance Approved Storm Damage Repair Company
If the rough weather in Minnesota has recently gotten the best of your commercial roof, our team at United Roofing is an insurance approved storm damage repair company. While there are many roofing companies to choose from in the Twin Cities area, none can match our years of experience, quality roofing products and our willingness to work with insurance companies. With your needs at the forefront, we are happy to work with your insurance provider directly to help repair or replace your existing commercial roof, depending on the severity of the damage.
Don't let the stress of your faulty roof get the best of you. Instead, give our dedicated roofing experts at United Roofing a call today to set up an evaluation of your commercial roof. No matter what type of roof you have or are interested in, our team can make sure that you achieve the exact protection and look that you have been dreaming of. Keep your commercial property, and those tenants within it, protected from the tough weather that hits the Twin Cities throughout the year. Contact our staff today at (612) 617-1717 to request a free estimate from our insurance approved storm damage repair team.