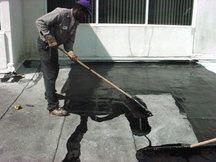 Do you have a roof leak at your commercial property? Have you been meeting with a client at your Minneapolis office only to be mortified when your roof started to leak? If the answer to either of these questions is yes, you likely need commercial roof repair or replacement. At United Roofing & Remodeling, Inc. we offer full service roofing services including commercial flat roof replacement. Don't skimp on quality when it comes to commercial roofing replacement or you may be sorry when the next severe Minneapolis storm makes its way through the area.
Types of Commercial Flat Roofs:
United Roofing & Remodeling offers a wide variety of flat roofing services based on your needs. Our most popular types of commercial flat roofing replacement include:
Built-Up Roofing
TPO Roofing (Including Commercial GAF white TPO roof)
PVC Roofing
EPDM Roofing
Extended Warranty Program for Twin Cities Customers
One of the primary ways that United Roofing & Remodeling is able to separate ourselves from our competitors is through our extended warranty programs. We are proud to hold a Master status with top commercial roofing suppliers that allows us to offer our customers warranties that last as long as 20 years. With our years of experience we've developed a variety of installation methods that allow us to stand behind our commercial roofs for long periods of time. The length of warranty will depend on the material that you choose for your commercial roof, but our roofing professionals will be more than happy to discuss your options when you setup a free estimate.
Combine Technology With Experience To Benefit You
With over 20 years of roofing experience in the industry you might think that we were set in our ways. This is actually not completely true. While we have a robust set of processes to ensure that each commercial flat roof replacement is handled to our high level of standards, we are constantly utilizing the latest in technology advancements to improve how we serve our customers. A few example of these technology advancements include imoisture scans as well as computer based estimating programs to produce the optimal roofing system is designed and produced to the latest roofing standards.
Lean on United Roofing & Remodeling For All Your Commercial Roofing Needs
Need commercial roofing repair or replacement? Give our roofing experts a call today at (612) 617-1717 or use our online contact form and we'll follow up with you soon.