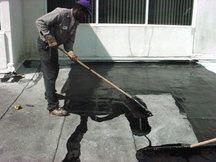 Even places like Rush City, MN have recently been hit by the severe summer storms. Although storms may be peaceful to fall asleep to, as we have seen from recent storms, damage can ensue. The high winds, unexpected hail, and heavy rain can cause serious damage to your commercial property. Sometimes, no matter how prepared you are for a storm, your office building or apartment complex may still experience damage. Some damage is more tolerable than others. On the other hand, if your roof has been damaged by a storm recently, it is vital that you get it repaired quickly. A damaged roof can lead to further damage of a property. When tenants are involved, the urgency of the repair becomes even greater. If you are dealing with a damaged roof from a recent storm, team up with the Minnesota commercial roofing professionals at United Roofing and Remodeling Inc., for all of your roof repair needs.
Superior Commercial Roofing Systems
Not only can our staff handle the minor repairs of a storm damaged roof, but we can take on the major repairs as well, including full replacement. If the damage requires a new roofing system, United Roofing and Remodeling Inc., has some great options for you including:
EPDM Roofing System – A great option for the wild Rush City weather that happens year around. This style system is sure to boost the energy efficiency of your commercial property and is very affordable. Lastly, it works well against ozone and UV resistance.
PVC Roofing System – Does your office building exploit harsh chemicals and pollutants? Well, we have just the roofing system for you! The PVC roofing option works well against direct contact with chemicals and industrial pollutants. This type of system tends to be cleaner, works well against varying weather and works really well in cold temperatures. We all know Rush City gets cold in the winter! With a watertight feature, your new roof will be able to withstand even the strongest storms.
TPO Roofing System – One of our newest roofing systems available to our customers is the TPO system. By combining both plastic and rubber materials, United Roofing and Remodeling Inc. offers an environmentally friendly option that is still able to provide long lasting reliability at an inexpensive price.
So, whether you are dealing with minimal damage or you need a new roofing system altogether, United Roofing and Remodeling Inc., is here to assist you. We are proud to serve the Rush City community, so give us a call today at (612) 617-1717 to set up a free quote on your storm damage roof repair needs.