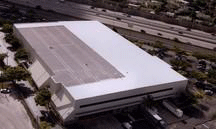 If your business is experiencing roof leaks from one of the recent storms that blew through St. Paul, MN, you're likely wondering who to call to take a look at your roof issues.  While there are a large number of roofing contractors in the St. Paul, MN area, few have the experience and the know how to serve the needs of commercial customers both big and small.  At United Roofing & Remodeling, we're well versed in all types of roofing materials including commercial flat roofing, and are proud to be one of the few GAF Master Commercial Roofing contractors in the entire Twin Cities Metro area.
Licensed Commercial Roofing Contractor St. Paul
When looking for a company to handle your commercial roofing in St. Paul, it's important to find a company that is properly experienced, licensed and insured.  When you work with United Roofing & Remodeling, Inc., you're working with a company that has been a fixture in the community for more than 20 years, and is fully licensed and insured for your peace of mind.  In addition, all of our employees are thoroughly trained to work on commercial roofing jobs of all sizes, and we strive to always instill a level of professionalism in our employees that we focus on from day one during hiring.
Highest Quality Roofing Materials Can Stand up to the Harshest Minnesota Winters
Because we've been a fixture in Minnesota for so long, we understand how brutal winters can be around here.  For this reason, we only use the highest quality roofing materials, which include GAF and Johns Manville products.  While some of our competitors may claim to offer better pricing, chances are they are using inferior materials that will not stand up to the brutal weather that is all too common in Minnesota.  When you work with United Roofing & Remodeling you can be confident that you will receive:
Transparent communication throughout the project
Competitive pricing
Highest quality installation available
Contact Our Minnesota Roofing Company Today
At United Roofing & Remodeling, Inc., we are incredibly proud to be an A+ Rated company with the local Better Business Bureau of St. Paul.  We feel that this designation proves that we're committed to our customers above all else.  If your commercial property is in dire need of roof repair or replacement, don't hesitate to reach out to the commercial roofers at United Roofing & Remodeling today.  We can be reached at 612-617-1717. We would be happy to come out to your facility and offer a free consultation to determine your best course of action when it comes to repairing or replacing your roof.