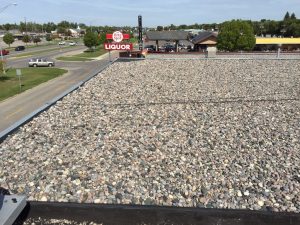 Unless you are immersed in roofing everyday, it is hard to gain the knowledge needed to make difficult roofing decisions. Especially in the commercial industry, there are so many styles of roofing to choose from and understanding the differences and benefits between the various types takes time to fully understand. Lucky for you, our team at United Roofing & Remodeling can be the roofing experts in Minneapolis that you count on for all of your commercial roofing needs. Flat roofing may be just what your business needs to keep your office protected for decades to come. As a GAF certified flat roofing contractor, we can handle your entire flat roofing project from start to finish.
Professional Flat Roofing Styles
For many, learning about the various types of commercial flat roofs and pitched roofs does not sound very appealing. For our dedicated staff at United Roofing & Remodeling, learning and mastering the fine details regarding various flat roofing styles is our passion! Thanks to our vast knowledge and experience, we are able to offer the following commercial flat roofing styles for you to choose from:
Commercial Built Up Roofing System – This standard flat roof option focuses on creating layers on top of layers that provide a protective and strong bonded and waterproof commercial roof.
Commercial EPDM Single Ply Roofing System – By utilizing a rubber membrane that has been proven to work for almost half a century, we offer varying thicknesses for you to choose from. This type of flat roof works particularly well in cold weather, just like the type of climate Minneapolis experiences.
Commercial PVC Single Ply Roofing System – PVC flat roofing material is very flexible, lightweight and energy efficient. Many commercial properties looking to become more eco-friendly and save money on energy bills choose this PVC single ply flat roofing option.
Commercial TPO Single Ply Roofing System – Last, but not least, our TPO flat roofing system is able to resist excessive rays from the sun and holds up well against any items that may try to puncture or irritate your roof.
As you can see above, a flat roof is a versatile way to ensure your building is protected for years to come. If you own a business in Minneapolis and are in need of a new roof, a flat roofing system may be just what your business needs. Team up with our flat roof contractors at United Roofing & Remodeling today by calling (612) 617-1717 or emailing pjeanotte@unitedroofingmn.com.