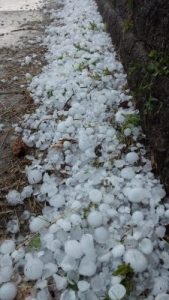 A number of areas in and around Blaine, MN recently experienced severe weather that included significant hail. In fact, local reports indicated that Blaine residents may have experienced hail sizes of 1.75 inches. As you're well aware, hail can cause significant damage to homes, and roofs in particular, so if you recently experienced severe weather it's important that you have your roof examined carefully to spot any storm damage. At United Roofing & Remodeling, we've performed a large number of roof repairs and roof replacements in the area and would be happy to come out to your home to perform a free roof inspection at your leisure.
Hail Damage Claim Experts
It's important to understand that by law you have a time limit to file hail and/or wind insurance claims. If you wait until it's too late, you could find yourself out of luck and on the hook for significant roof repairs. We've worked with a number of local homeowners over the years and take pride in fighting for the rights of property owners during the entire hail damage insurance claim process. The entire insurance process can often be confusing and if you're not properly prepared you may be less than satisfied with the outcome. By partnering with a company like United Roofing & Remodeling you'll be working with someone who has interacted with the major insurance companies that cover the Blaine, Coon Rapids and Hugo area, and has the experience to not only fix your roof as quickly and efficiently as possible, but also to answer any questions that your insurance adjuster may have throughout the process.
Avoid Minnesota Hail Damage Problems
Spring and summer should be a time where you and your family can sit back and relax and enjoy a possible vacation or two, not trying to track down roofing contractors and insurance adjusters to deal with hail damage. Thanks to United Roofing & Remodeling, we can make the entire storm damage repair process as easy and painless as possible. Just give us a call and we'll schedule a free roof inspection where we'll determine if there is any damage and if so how to go about repairing your roof or replacing it if absolutely necessary.
The team at United Roofing & Remodeling is standing by to handle any roof repair or roof replacement needs after the recent hail storms that we've all experienced. To learn more about scheduling a free storm damage inspection, give us a call today at 612-617-1717.