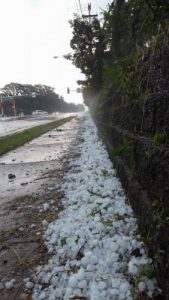 If you were in or around your home during the recent hail storm that barreled through Blaine, MN, you're likely wondering if your roof sustained any storm damage. There were reports of hail sightings as large as 1.75", so there's little denying that countless homeowners in the area could have significant damage to their roofs. If you're unsure of what to do, feel free to reach out to our team at United Roofing & Remodeling, Inc. We can come out to your home to offer a free assessment to determine if the recent hail storms caused any damage to your roof, and if so work up a reliable estimate that can be used to discuss your options.
Minnesota Hail Damage Repair Experts
The professionals at United Roofing & Remodeling have been helping residents in and around Blaine recover from roof damage due to severe weather for many years. When you're working with our team you're working with a local, family owned company who will be here for you now, as well as long into the future.
You may be surprised to know that many roofing contractors will track weather patterns and swoop in at the first sign of danger. The problem with this approach is that these roofing companies are often difficult to find when issues arise with their work down the road. Thankfully with United Roofing & Remodeling you can be confident that we'll be here should you run into any issues in the future.
Minnesota Hail Damage Inspector
The first step after sustaining roof damage due to hail is to have one of our hail damage inspectors come out to your home to take a look at what type of damage you may have. Our inspector will meet with you, and can even meet with your insurance adjuster if necessary to identify the roof damage that needs to be repaired. We're well versed in working with local insurance companies in and around Minnesota and would be more than happy to work up a quote for you to provide for them at any time.
Hail Damaged Roof? Call United Today!
If you've been putting off calling an Blaine roofer since the latest round of hail storms came through our area, go ahead and pick up the phone and call us today at 612-617-1717. We'll be standing by ready to assist you in any way that we can.