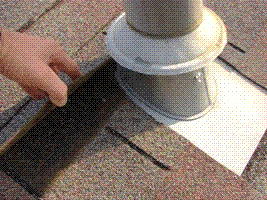 While the winters in Minneapolis MN can be pretty brutal, the spring and summers can be tough as well. Between the humid temperatures and the severe summer storms, weather related roof damage is something that far too many Minnesota residents have had to deal with over the past few years. At United Roofing & Remodeling we've seen hail damage all across the entire metro area. We have a team of trained roofing professionals that can spot storm damage and help you work with your insurance company to fix your roof as quickly as possible.
Inspect Your Roof ASAP After a Severe Storm
Hail damage is something that can be difficult to notice by the untrained eye, but can cause significant problems for your roof. Follow the following steps as soon as possible after you notice that hail may have caused damage to your roof.
Inspect your roof regularly – To have knowledge of the quality of your roof before a severe storm is beneficial if at all possible. This way you will be able to better spot changes after a severe storm that may have caused hail damage. It's even better if you can take photos annually to document your roof prior to any damage from storms.
Inspect your roof after a storm – Any storm can potentially cause damage to your roof. As soon as possible after a storm examine your roof and take pictures to compare them to your "before storm" pictures for any signs of roof damage.
Inspect your gutters – Another sign of roof damage is to check your gutters for any signs of mineral material. If you keep your gutters clean and see significant mineral buildup after a strong storm you could be dealing with roof damage from a storm.
How to Spot Hail Damage on Asphalt Shingle Roofs
Checking your gutters for large amounts of asphalt material is a good sign that your roof may have hail damage. You can also look at your asphalt shingles and try to spot areas that have lost significant asphalt material from the surface of the roof shingles. While you may not be able to know for a fact if you've experienced hail damage, it's always best to contact a roofing contractor like United Roofing & Remodeling to come out and take a look.
Contact United Roofing & Remodeling Today
If you suspect that your roof has experienced storm damage from a recent weather event, it's best to call in the licensed roofing professionals at United Roofing & Remodeling to provide a free hail damage assessment. We'll work with you and your insurance company to ensure that you're protected throughout the process. Pick up the phone and give us a call today at (612) 617-1717.