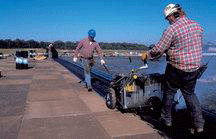 Commercial buildings often times opt for flat roofs as opposed to pitched roofs which are mainly associated with residential homes. There are many benefits to having a flat roof. One benefit is that they are easier to inspect, which happens often in commercial buildings. In addition, they are economical in that they are cost efficient because they require less materials and incur less labor costs. Finally, a flat roof also allows for an increase in useable space. United Roofing & Remodeling Inc. is your go to company for your commercial flat roofing needs in the St. Louis Park area!
Licensed and Leading Commercial Roofing
When choosing a company for your commercial roofing in St. Louis Park, it is important to find a company that is both knowledgeable and reliable. United Roofing & Remodeling Inc. is both, with over 20 years service in the industry. We are proud to be a GAF Master Commercial Roofing contractor. By using high quality materials, including Johns Manville products, our roofs are able to stand the test of time and harsh Minnesota winters. By choosing United Roofing & Remodeling Inc., you will receive:
High quality installation
Superior communication
Competitive pricing
Our Minnesota Roofing Company
One of our main goals as a company is customer service. We will work with you from the planning stages, to the installation or repair, and finally, we will provide you with extended warranties that other companies in the roofing industry cannot compete with. With customer satisfaction being our top priority, we keep several ideals as most important for our company. First, we want to be sure we are providing you with a quality outcome, and for that reason we employ skilled workers and provide training to keep them as up to date as possible. Second, United Roofing & Remodeling Inc. is able to offer our customers competitive prices and can provide you with a free estimate. Finally, it is important to us to meet your specific roofing needs, so we will customize each job based on your needs.
As an A+ rated company with the Better Business Bureau, we know that we will provide you with quality craftsmanship, and we stand firm in getting the job done right the first time. In addition, you can feel safe that we are using the most current techniques in order to provide you with superior installation. Call United Roofing & Remodeling Inc. today at (612)617-1717 to receive a free quote.