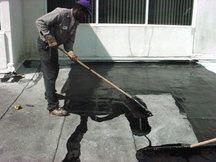 Looking for a Minnesota commercial roofing contractor in your area? At United Roofing, we are your premier spot for commercial roofing experts! With over 20 years of experience in the state of Minnesota, we can handle all of your commercial roofing needs. We can perform all types of projects from commercial metal roofing, to unique projects that you've created in a dream. If you are ready to put a roof over your head, United Roofing is the only place to call!
Your Commercial Roofing Experts
At United Roofing, we believe in a "team" approach. This means that when we partner with you, you can choose to be involved in the decision making process. We know that this is your property, so we strive to make customer communication our number one priority. Therefore, we will always make ourselves available to take your calls and answer any questions you may have. We have an experienced field crew and an expert sales staff that can assure accurate bids and excellent customer service. We want everyone to know that this Minnesota commercial roofing contractor is the best around!
Commercial Metal Roofing
Placing a metal roof has increased in popularity dramatically over the past few years. People are finding the metal roofs not only look nice but are incredibly cost effective. In comparison to your conventional roofing materials, commercial metal roofing is durable, long lasting, saves money, and provides a comfortable environment. For all of our commercial metal roofing customers, we offer panelized metal, lightweight aluminum, steel, copper, and many other metals. This gives you an opportunity to decide exactly how much you'd like to spend. Regardless, a metal roofing system will last 2-3 times longer than an asphalt system, which typically lasts 10-20 years. It's likely that the roof that is put up by United Roofing is going to be the roof that is there for a lifetime.
Not only does it have an increased longevity, the roof is energy efficient! Both light and dark colors within metal roofing has the ability to reflect heat and reduce cooling loads in the summer. It also can help insulate the building in the winter, lowering energy bills regardless of the Minnesota season. There's nothing that metal can't match! No matter what type of style, color, or finish you may be looking at, commercial metal roofing can match it! We can even make some of our metal roofing products look like the asphalt you have now!
So if you are ready to use the most premier Minnesota commercial roofing contractor in the area, call our commercial roofing experts today! Contact United Roofing at (612) 617-1717.