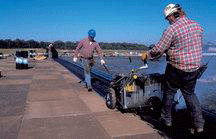 Built-up roofing has been around for more than 100 years, and its longevity as a roofing system is proof in and of itself that built-up roofing systems, or BUR, really are effective. This time-tested roofing system is an investment worth making, with a slew of benefits to prove its worth and reliability. When you invest in a built-up roofing system, you can be sure that the cost of installation will be well worth it, as this commercial roofing system will protect your business much more effectively against weathering than a single-ply roof. When your business is in need of a new roof and you're looking for a long-lasting roofing system from a GAF certified contractor, United Roofing & Remodeling, Inc. is your best option in the Minneapolis, Minnesota, and Twin Cities area.
What is Built-Up Roofing (BUR)?
A built-up roofing system, BUR, is the most common low-slope, multi-ply roofing system. BUR systems are often referred to as "tar and gravel roofs," as they're made up of three to four layers of reinforcement felts and waterproofing bitumen, which is asphalt or coal tar. A built-up roofing system provides greater strength than many other roofing systems because it's a multi-layer system that is engineered to last. Each layer of felt, or each ply sheet of a BUR system contains fiberglass reinforcement that, combined with the alternating layers of water-resistant asphalt, makes for a longer-lasting roofing system that gives your business layers of protection against harsh and variable Minnesota weather.
Commercial Built Up Roofing Installation
In addition to the longevity of a BUR system, you can also look forward to having an easy and economical roofing system to maintain. Built-up roofing systems have been around for so long that we've figured out how to make sure that you have to make repairs as infrequently as possible, and when you do, a BUR system is easily repaired with materials and techniques that have stood the test of time. You can count on limited roof movement with a built-up roofing system, as its high-tensile strength allows it to resist weather damage that would cause a single-ply roof to warp and lose elasticity, and if you're looking for an incomparably water-resistant roof, a BUR system is the perfect solution. With BUR systems, you'll have the benefit of multiple layers of asphalt between your business and the weather, making springing leaks nearly impossible.
GAF Master Elite Certified Roofers
If you're looking for a reliable commercial roofing contractor that knows what it takes to install a quality built-up roofing system, look no further than United Roofing & Remodeling, Inc, a Minneapolis GAF Master Elite certified roofing contractor. That means that we're not only fully licensed and insured, we also have a reputation of excellence that has been tested by GAF, a company that ranks the most highly qualified roofers in the U.S. to determine which roofing contractors are meeting the highest standards of workmanship. For a GAF certified commercial contractor you can trust, contact United Roofing & Remodeling, Inc. at (612) 617-1717 or pjeanotte@unitedroofingmn.com, and see why we're among the top contractors in the U.S.