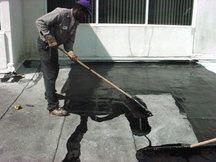 When it is time for you to invest in a new commercial or residential roof, one of the best roofing systems you can invest in is a flat roofing system. While there are many roofing contractors in Minneapolis, there are not very many that have earned the designation of Master from GAF when it comes to the installation of certain commercial and residential roofing systems. In fact, only 2% of roofing contractors have achieved this recognition, and our team at United Roofing here in Minneapolis is one of them! At United Roofing, we offer flat roofing contractor services for commercial properties in Minneapolis and residential properties looking for a flat metal roof.
Flat Roofing Options
Once you decide to go with a flat roofing system for your residential or commercial property, the next thing to decide is which specific roof style you would like. Thanks to more than 20 years of experience in the roofing industry, we have found that the following flat roofing styles are your best options:
Built Up Roofing
EPDM Single-Ply Roofing
TPO Single-Ply Roofing
PVC Single-Ply Roofing
Flat Metal Roof
Extended Warranty Programs
Another reason to choose United Roofing for your flat roofing needs is because of our rich warranty programs. Since we have earned our Master status, we are able to offer our customers extended warranty programs that simply cannot be matched by our roofing competitors in Minneapolis. In fact, some warranties for our commercial and residential roofing systems last up to 20 years! That should give you the peace of mind that you are making the absolute right choice by choosing United Roofing as your commercial or residential roofing contractor. If you have a specific warranty in mind, just let our roofing sales staff know, and we will guide you in the right direction.
Proven Roofing Specialists
Treating customers fairly and offering affordable prices on products that last goes a long way in the roofing industry. At United Roofing, we've been around for so long thanks to the expert team that we have built and maintained over the years. Our flat roofing systems not only come with the best warranty around, but they also help make your commercial or residential property more energy efficient. Our licensed and insured staff will offer you competitive pricing, expert installation and timely completion, regardless of the size of your project!
If you are in need of a residential or commercial roofing contractor in the Minneapolis area that you can trust, look no further than our team at United Roofing for all of your flat roofing needs. To request a free quote, give us a call today at (612) 617-1717, or email pjeanotte@unitedroofingmn.com.