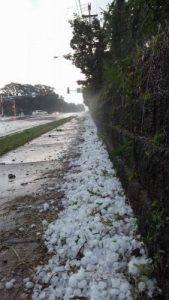 Have you experienced hail damage after the severe storms we've seen over the past few weeks in Minnesota? If you've noticed damage to your siding, gutters, sheds and A/C units, you could also have sustained hail damage to your roof as well. It's best to give a licensed and respected MN roofing company a call if you're worried about some of the large hail storms that we've recently had in the area. At United Roofing & Remodeling, we're well versed in the hectic spring and summer weather in Minnesota and have trained our employees extensively to spot hail damage to ensure that it is properly repaired to prevent issues down the road.
How is Hail Damage Measured?
Many roofers use what is called the square test when assessing hail damaged roofs. This is simply done by marking a 10'x10' area and inspecting it to take note of the damaged roofing in that area. Insurance companies have different requirements as to how many hail 'hits' they require within the square area to determine that the roof needs to be replaced as opposed to repaired.
Hail is often directional coming from either the west or the southwest. Therefore, we can start our inspections on the western areas of your roof to find the most severe damage first. We'll also first inspect what we call 'soft metals' such as fascia, gutters, A/C fans and furnace caps to look for hail damage.
Interesting Facts About Hail Damage
• Hail causes roughly $1 billion in property damage and crop damage each year.
• The most costly hail storm was in Fort Worth, TX where total damages surpassed $2 billion of which $1.1 was attributed to hail damage.
• Hailstorms are often short in duration, many times lasting just 15 minutes or less.
• One of the largest hail stones on record measured 8 inches in diameter and had a weight of almost 2 pounds. This hailstone was found in South Dakota.
Free Hail Damage Assessment
If you're unsure of whether your roof was damaged due to a recent severe storm, it may be time to give our experienced roofers a call. We'll be happy to come out to your home to provide a free, no-risk estimate to let you know what you're facing when it comes to roof repair or replacement. Don't hesitate to reach our team by phone today at 612-617-1717 or via email at pjeanotte@unitedroofingmn.com.