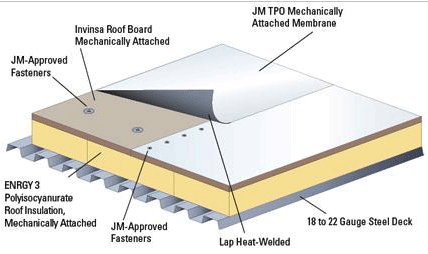 Recently, the popularity of TPO single roofing systems has skyrocketed. GAF decided to have Structural Research Incorporated (SRI) perform the largest TPO study ever done to determine which brand is the best TPO single roofing system on the market. This thorough testing compared the leading TPO manufacturers, GAF, Firestone, Carlisle and Johns Manville. After a year of analysis and accurate testing, SRI determined that GAF's EverGuard Extreme® was the best TPO single roofing brand against UV resistance and heat aging. If you live in Minnesota and are looking to utilize the greatest TPO single roofing system around, United Roofing & Remodeling Inc. offers the GAF EverGuard Extreme® to all of our customers.
High Performance
By investing in GAF TPO single roofing, you will be receiving the longest roof life of any TPO system. This EverGuard Extreme® system offers 35 years of extreme protection! Meeting all of the ASTM standards, this roofing style fights very well against UV degradation and heat aging characteristics. When investing in the biggest protector of your home or office, don't settle for mediocrity. Instead, commit to high performance and elite protection with the GAF EverGuard Extreme® TPO single roofing system.
Benefits of TPO Single Roofing
Affordable – Investing in a roof can be expensive. United Roofing & Remodeling Inc. makes it a point to offer our services at an affordable price.
Quick Installation – Your new single roofing system will be installed in a jiffy!
Energy Star® Qualified – Looking to reduce your energy costs this year? Our Energy Star® qualified TPO single roofing system provides energy efficiency that other roofing systems simply can't offer.
Resists Punctures – One key attribute that helps with the 35 year life expectancy of this style roof is that it is puncture resistant.
Flexible – We all know how tough our winters can be around Minnesota. Thanks to the flexibility of the TPO single roofing system, your roof will be able to handle the excessive ice and snow accumulation that occurs in the winter.
So, if you had any doubts about the TPO single roofing system, there should be no question as to which manufacturer to invest in today. Thanks to the testing from SRI, the hard work of finding out which brand to partner with is made easy. If you live in Minnesota, team up with United Roofing & Remodeling, Inc. and invest in a long lasting GAF TPO single roofing system today by calling (612) 617-1717.