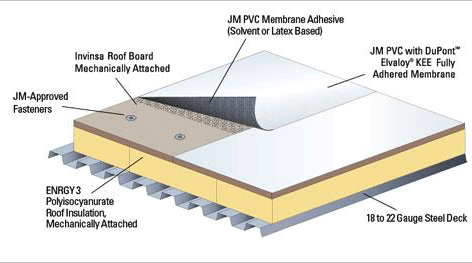 PVC roofing, or polyvinyl chloride, is one of the most common types of roofing materials, used primarily for roofs that are flat or have a very low slope. It is made up generally of very thick material from flexible UV-resistant thermoplastic material and may be combined with polyester or fiberglass, resins, pigments, plasticizers and other chemicals. United Roofing & Remodeling Inc. is proud to carry and install PVC roofing in the Minneapolis, MN area.
Benefits of PVC Roofing
There are many important benefits of PVC roofing and it may prove to be just the material you are looking for to replace your current residential or commercial roof.
Can withstand the harsh weather in Minnesota (including snow and wind in the winter).
Great for cold climate areas.
PVC is a fire safe material.
Different colors are available though light colors (including white) are most often used because of their ability to reflect light (instead of absorbing it).
You can also choose a design — PVC can even look like shingles if you choose!
Some PVC is energy star or "cool roof" rated.
Less expensive than many other roofing materials.
Relatively easy to install by a professional (which can also help keep costs down).
Strong material that creates a watertight seal.
Partner with United Roofing & Remodeling Inc. for All Roofing Needs
If you are planning to replace your roof with PVC roofing, there are a few things you should know. Perhaps most important is that Installing flat roofing can be much different than installing shingles so it is critical to use a roofing contractor with extensive experience with this type of roofing. There is a direct correlation between the longevity of the PVC roofing and how well it was installed, so you should partner with a company with the skill and experience necessary to do the job right.
United Roofing & Remodeling Inc. has installed hundreds of PVC roofs in the Minnesota area since we opened our doors 20 years ago. We understand the unique techniques necessary to make sure that PVC roofing is installing correctly so that your home can benefit from its strength and your roof can function for years to come.   We our proud of our work and our reputation and treat all of our customers honestly and fairly. We are one of the only factory trained and certified GAF Master Elite residential roofing contractor in the Twin Cities area, offering superior protection warranties backed by GAF, America's largest roofing manufacturer. Now is a great time of year to call our team (1-612-617-1717) so we can take a look at your roof and make the best recommendation for repair or replacement.