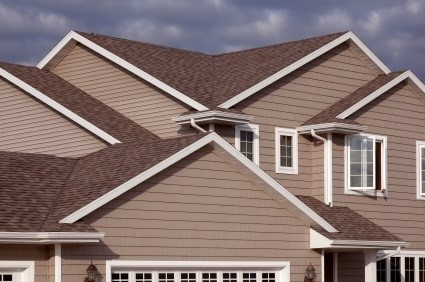 In Falcon Heights, MN, we've recently had severe storms that featured some heavy rain, hail and wind.  If your home's roof was damaged in a recent storm, it's important to get it checked out quickly by a reputable roofing contractor to ensure more damage doesn't occur.  At United Roofing and Remodeling, we're well versed in all types of roof repair and replacement and stand ready, thanks to our 24/7 emergency service to handle any of your roofing needs.
Falcon Heights Hail Damaged Roof Inspectors
At United Roofing, our roofing contractors are trained to spot hail damage and other storm related damage.  A hail damaged roof is usually easily identifiable by a trained eye, but can be difficult for homeowners to spot.  Hail damage is known to take as much as 10 years off of the life of your roof, so if you heard hail hitting your roof during a recent severe storm in Falcon Heights, it's likely better to play it safe and call a professional roofing contractor like United Roofing and Remodeling to come out and have a look at your roof for any damage.
How Do I Know I'm Dealing with a Reputable Roofing Contractor?
After severe storms, you'll have a number of out of state roofing contractors come into town to try and earn your business.  These roofing contractors are often not properly licensed and insured, and are more interested in getting paid as opposed to providing a high quality roofing repair or replacement.  At United Roofing, we've been a fixture in the Falcon Heights community for more than 20 years.  We've been here before, during and after the recent severe storms, and we don't plan on going anywhere anytime soon.  We stand behind all of our work and are highly experienced in dealing with the storm and hail damage that is all too common in the Twin Cities area.
What About Dealing with Insurance Companies?
With residential hail damage, many times your homeowners insurance policy will cover roof repair or replacement, depending on the severity of the storm damage.  At United Roofing, we work with insurance companies almost every day and can even work with them directly on your behalf.  Sometimes insurance adjusters will request to meet with a roofing contractor to discuss any repairs, and we're always happy to do this.
Reach Out to United Roofing near Falcon Heights MN Today
Stop waiting to deal with any roof damage that may have occurred from a recent severe storm in the area.  To schedule a free consultation with a member of our storm damage rapid response team, give us a call today at 621-617-1717.