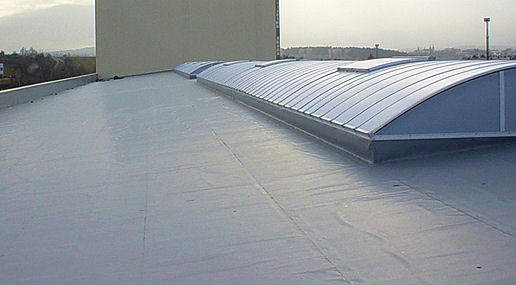 When you're looking for a roofing contractor, it can seem like you're sifting through piles of contact information for companies you've never heard of with identical customer reviews and website information. Deciding which roofing contractor to use when installing your roof or making roof repairs, whether you're a business owner or housing development manager, can be a painfully difficult process if you don't know what to look for. Fortunately, at United Roofing & Remodeling, Inc., we can help you sort through those roofing contractors to find the best Colombia Heights roofing contractor available. Spoiler alert: it's us! Our roofing installation company has been named a GAF Master Elite roofing contractor, meaning we're in the top 2% of all roofing contractors in the United States, making us your best option for a qualified roofing company in Colombia Heights, Minnesota.
Commercial and Residential Roofing Company
Because we know that roofing contractors are not all created equal, and not all roofing systems can stand the test of time as well as others, we want to make sure that all of our customers have the information they need to make informed roofing decisions. When it's time to choose a commercial roofing system for your business, we offer several flat roofing systems to choose from, including built-up roofing with three to four layers, EPDM single-ply roofing, TPO single-ply roofing, and PVC single-ply roofing systems, in addition to less conventional metal roofing systems. Each of these roofing systems has stood the test of time, the test of a GAF certification, and the test of the most intense Minnesota storms, ensuring that when you put your faith in one of our roofing systems, whether it's for your business or a housing development, you can count on your roof being intact in the morning. And when it's not, we'll be there to make the necessary storm-damage repairs immediately so that you can avoid the inconvenience and harm a damaged roof can cause.
GAF Certified Roofing Installation, Maintenance, and Repairs
Whether you're in need of commercial roofing installation or repairs for your business or a condominium or townhouse development, you can count on United Roofing & Remodeling to always be there when you need us. We know that with a GAF Master Elite roofing certification comes a responsibility to maintain excellent roofing services that meet the GAF standards that we have striven for over the course of more than 20 years. Our Colombia Heights roofing contractors will help you not only by providing excellent service and unparalleled roofing systems installation and repairs, we'll ensure that you know as much about roofing systems as possible so that you can make an informed decision about your roofing needs. To protect your business or housing development with the best roofing system possible, look to United Roofing & Remodeling for all of your roofing services in Colombia Heights, MN. Contact us today at (612) 617-1717 or pjeanotte@unitedroofingmn.com, and find out firsthand how we made a name for ourselves as GAF Master Elite Minnesota roofing contractors.