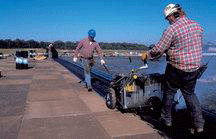 As a leading commercial roofing contractor in the Minneapolis and St Paul, MN area, United Roofing and Remodeling focuses on providing customers with superior service, the highest quality roofing installation and repair services in the area. Our team stays current on all industry and safety standards and has even earned the designation of Master from GAF for installation of commercial Thermoplastic Roofing Systems. This honor is only given to a select few roofing companies in the area.
Insurance Approved Roofing And Siding Company
The Master status earned by United Roofing and Remodeling gives our team the ability to offer extended warranties to our customers in the Minneapolis/St Paul area lasting as long as 20 years. This sets United apart from other area roofing installers and gives our clients confidence and peace of mind knowing that their roof investment will be protected for decades. The products we install are insurance approved and include the following flat roofing options:
● Built Up Roofing
● EPDM Single-Ply Roofing
● TPO Single-Ply Roofing
● PVC Single-Ply Roofing
We also have extensive experience using both Built-Up and Single-Ply systems.
Experienced Roofing Contractor Minneapolis MN
The roofing contractors that make up the United Roofing and Remodeling team are highly experienced in the field and have been given in-house safety and skills training. We can work closely with you to develop a plan for your roof that meets any unique needs you have for the space and our crew will make sure to come up with options that meet your budget, your specifications and that will be able to withstand the harsh Minnesota climate. We also offer emergency roofing services if you find that the roof of your commercial site is somehow damaged.
United Roofing and Remodeling has partnered with all types of commercial and industrial properties in the St Paul/Minneapolis area including apartment complexes, condominium and townhome associations, restaurants, law offices, industrial sites, churches and many more. Our company is fully insured and always offers a free consultation so that you can ask questions and gather the information that you need to make an informed decision about your roofing needs.
United Roofing And Remodeling Focuses On The Customer
United Roofing and Remodeling combines the highest quality installation with competitive pricing, clear and open communication and superior customer service to each of our customers. We take great pride in our work and our reputation – and consider a referral the best possible compliment. Call (612) 617-1717 for more information or to request a quote!