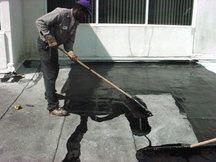 Our roof! Our roof! Our roof sales are on fire! United Roofing & Remodeling is ready to install, repair, or replace your commercial or residential property roof today. Serving the great state of Minnesota for over 20 years, we have the knowledge and skill that makes us a superior commercial roofing contractor in MN.
Commercial Roofing Contractor MN
Commercial roofing is not for beginners. When you are entrusting someone with fixing or replacing the roof on your commercial property, you want to be sure that you are getting the best service. At United Roofing & Remodeling, we offer the industry's most comprehensive customer support, installation and repair services. You will not find a more committed team of experts to give you the commercial roof you need. This is backed by our distinguished title as a Master from GAF for installation of commercial Thermoplastic Roofing systems. This designation is not often given and not easily achieved. However, through our professionalism and experience, we have earned the title and sport it proudly. We offer a variety of commercial roof types. The following is a sampling of commercial roof types that we perform:
Commercial flat roofing
EPDM roofing systems
Built up roofing systems
PVC roofing systems
TPO roofing systems
Metal roofing systems
Residential Roofing
While we are considered experts in the field of commercial roofing, don't neglect our title as a residential roofing contractor as well. We help residents of Minnesota keep their homes safe and protected by installing a tough first line of defense, their roofs. We are also an insurance approved storm damage repair company. This means that when the unthinkable happens, United Roofing & Remodeling will be there to help. Everyone in Minnesota immediately thinks of our winter storms when they think of disasters. As an insurance approved storm damage repair company, we cover bad snowstorms and ice in the winter, but we can do so much more. We cover all types of natural disasters, from flooding to ice, but also the man-made emergencies such as fire, smoke, pipes bursting, oil spills, etc. When disasters like these happen, you need someone on your side fighting for you. We can help. We can work with you and explain the damage to your insurance companies so that your roof can get the proper repairs it needs.
If you are a residential or commercial owner in MN and you need roofing repair, replacement, or installation, it's important to call United Roofing & Remodeling right away. For more information, call us today at (612) 617-1717.