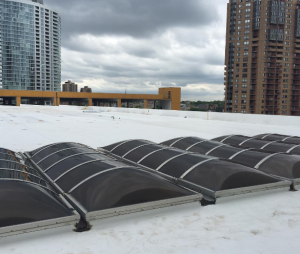 Do you own commercial property in the St. Paul area?  If so, you likely understand the amount of work that is required to keep your facility up and running without issue.  One of the areas of your property that offers the best protection against Mother Nature is your roof.  If you've neglected your roof for far too long and are now beginning to pay the price, it may be time to call in a Commercial Roofing Installer like United Roofing & Remodeling, Inc. to assess the situation.
Learn More About Our Commercial Roofing Team
At United Roofing & Remodeling, we understand that replacing your commercial roof is a large investment.  You want this new roof to last you for many years into the future and you want to work with an experienced commercial roofing contractor who has experience with a variety of different sized commercial projects.  While your residential roofing contractor may be perfect for small jobs, it really pays to hire a commercial roofing installer when it comes to replacing the roof on a large commercial building or structure.  At United Roofing & Remodeling, not only do we have more than 20 years of commercial roofing experience, but we also are fully licensed and insured, and offer competitive pricing that will make it tough to pass us by when you're shopping for a new commercial roof.
Types of Commercial Roofing Systems
At United Roofing & Remodeling, we offer a variety of commercial roofing systems.  Our most popular roofing systems include:
If your St. Paul business is looking for a new roof, give the commercial roofing professionals at United Roofing & Remodeling, Inc. a call today at (612) 617-1717.  We'd be happy to setup a time for one of our roofing contractors to come to your business and assess your needs.  We look forward to working with you soon.