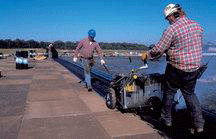 A solid roof is obviously a crucial thing to have. Without it, your business wouldn't survive beyond a couple days. It's very important that you have a qualified, experienced roofing contractor handle the installation and repairs of your roofing system. United Roofing is a GAF Certified Roofing Contractor in Minnesota and we are well-versed in all types of roofing systems. It is important that you team up with a contractor who has experience with all types of roofing because we can determine which type is ideal for your building's needs. Contact us today for reliable, fair roofing services in Minnesota.
Commercial Roofing Systems
There are two main types of roofing we use at United Roofing: single ply (including EPDM, TPO, and PVC) and multiple ply (typically referred to a "built-up roofing). We can also do shingles, but the majority of commercial buildings have flat roofs and therefore the first two systems are really our only choices.
Built-Up Roofing
Built-up roofing systems are the ideal choice for commercial flat roofs. Built-up roofs are best compared to a layer cake. The base is the roof decking. Then the insulation is laid down. After that comes the first layer of water-proofing bitumen which could be compared to the layers of icing in a cake. Then a cover board is laid down, followed by another layer of water-proofing bitumen. After a layer of ply sheet is laid down, a form of felt. This is like the cake. Then water-proofing bitumen to hold it all together, and then another layer of ply sheet. This is layered three or four times in order to provide extreme protection for your roof from the harsh elements of Minnesota. Is this excessive? Yes, but that's exactly the point. A built-up roofing system is designed to be excessive so that there are no worries about leaking or structural integrity for the next 15 to 20 years. The walls of Troy were also built excessively high, and they did a pretty good job of keeping things out. Granted, someone shouldn't have opened the doors, but the walls did their job.
Single Ply Roofing
United Roofing using single ply roofing systems manufactured by Johns Manville. These roofing systems are easier to install and relatively inexpensive compared to built-up systems. The single ply options we use at United Roofing have all been tested and proven to be able to withstand extreme weather. This is obviously important if you live in Minnesota. The drawback to single ply systems is that they generally don't last as long as built up systems. So it's really a matter of pay now, or pay later.
Licensed Roofing Contractors
United Roofing has been awarded the distinction of being a GAF Master Elite contractor. Only 2% of roofing contractors in Minnesota have gained this achievement. When you team up with United Roofing, you can be assured that you are putting your trust in the best roofing professionals in Minnesota. So call us today for a free estimate or inspection.