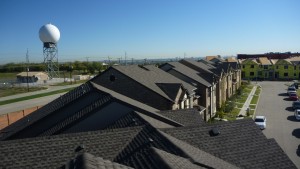 Unless you were living under a rock a few days ago, you likely experienced the massive summer storm that tore through the Faribault, MN area.  At United Roofing, we've already received calls from townhome associations commercial businesses and home owners who have experienced storm damage from these recent weather events.  If your roof was damaged in this most recent storm, now's the time to get the professionals at United Roofing out to fully assess the situation.  If you act fast, you can ensure that all of the necessary precautions are taken, and in many instances the townhome association's insurance may cover some if not all of the roof repairs, if they're deemed a severe weather event.
Storm Damage Repair Faribault MN
At United Roofing, we provide roofing repair and replacement services to townhomes, condominium associations, commercial business  all across the Faribault area.  We understand the frustration that arises after a severe storm, especially if it means water is pouring inside your townhome, or a townhome within your community.
Acting quickly after a severe storm is incredibly important to mitigate damage, and reduce the amount of restoration work that will be required.  The roofing professionals at United Roofing can handle any type of storm damage, or disaster restoration that may have occurred within your townhome community.
Our storm damage response teams can be dispatched at a moments notice to your Faribault town home to assess damage quickly across your entire community.
Experienced Townhome Roofing Experts
When it comes to repairing or replacing roofing systems in townhome communities, not just any roofing contractor will likely provide the level of service that you're looking for.  It's important to work with a Townhome association roofing contractor that has the necessary licenses, insurance and experience to take on a job of this size.  At United Roofing, we have more than 20 years of experience working with townhome and condominium associations in the Faribault area.  We can handle your community's small jobs, as well as larger reroofs that may encompass multiple buildings.  Our goal is to get your roofing job done as quickly as possible, without sacrificing the highest level of quality, which has earned us a stellar reputation all across the Twin Cities area.
Reach out to United Roofing Today
As we mentioned above, don't let the recent storms that hit Faribault, MN get you down when it comes to the roofs within your townhome community.  We're already out on the streets of Faribault giving estimates from the recent storm.  Give us a call today at 612-617-1717 to get on our list and to receive a free roofing estimate.  We look forward to hearing from you soon.