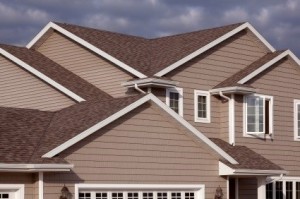 How many times have you looked at the siding around your home and noticed paint peeling and wood rotting? While you may think that these are minor issues that most people in the Twin Cities area deal with, they can actually lead to major issues if not handled quickly. At United Roofing & Remodeling we've put together a few issues that can occur if your siding is not maintained properly.
Common Problems With Poorly Maintained Siding:
Termites – Did you know that termites love to chew on rotten wood siding? If the paint on your siding is beginning to chip and even rot, termites would love to "set up shop" in your home for a while. Termite damage can be extremely expensive to repair and can get out of hand quickly. While termites may not be as prevalent in Minnesota as other parts of the country, there is always the chance that they may cause damage to the exterior of your home if it is not properly maintained.
Moisture Damage – Whether you have wood or vinyl siding if it is not properly installed and maintained moisture can form behind the siding and cause significant issues. Always use a reputable Twin Cities siding contractor like United Roofing & Remodeling to handle your siding job.
Painting Expenses – Traditional wood siding must be painted fairly often to remain attractive and to avoid it from rotting. This can be quite expensive and it is why many homeowners are beginning to turn to vinyl siding or cement fiber siding instead. These materials last much longer than wood siding and leave the exterior of your home looking great.
Alternatives to Traditional Wood Siding
At United Roofing & Remodeling we provide a variety of siding installation options. We can install vinyl siding as well as fiber cement siding depending on your needs. Vinyl siding is a low maintenance option that usually only requires a pressure wash once a year, while fiber cement siding is also very low maintenance but can be painted. While you can paint fiber cement siding, you can also install factory-primed and painted siding, which carries a warranty of up to 25 years. United Roofing & Remodeling installs replacement siding from the following manufacturers:
Vytec
James Hardie
CertainTeed
Alside
Alcoa
Crane
Let United Roofing & Remodeling Fix Your Siding Woes
If your siding is in need of repair, give the siding experts at United Roofing & Remodeling a call today. We would be more than happy to come out to your home with a variety of samples to show you how we can turn your home into the best looking house on the block! Give us a call today at 612-617-1717 so we can get you on the schedule as soon as possible!